Statement of Qualifications
Over 20 years of experience in ecological management.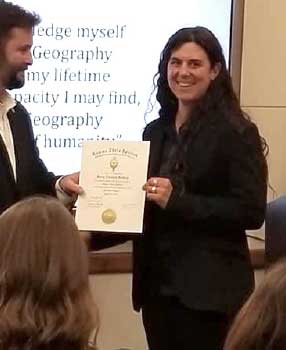 Map The Point is a woman-owned firm with Sarah Godfrey as its owner and principal consultant. Sarah is an experienced Natural Resources Manager and Conservation Biologist in California. She is a Geographic Information Systems specialist adept at data management and organization, customizing field data collection solutions.
With an emphasis and focus on habitat conservation using Remote Sensing technology, Sarah is an excellent Project Manager with expertise in writing and implementation of Habitat Management Plans, specializing in efficient and effective operations within fiscal and time constraints. 
She is an accomplished Field Biologist with extensive experience in the survey of threatened and endangered flora and fauna species. 
As an outspoken public speaker, she addresses invasive species issues in California and is also a partnership relationship developer, maintaining positive business and community benefit collaborations.
Education
University of Southern California, Los Angeles, CA
Master of Science Degree, Geographic Information Science and Technology
Master's Thesis: Spatial Distribution of the Endangered Pacific Pocket Mouse (Perognathus longimembrus ssp. pacificus) Within Coastal Sage Scrub Habitat at Dana Point Headlands Conservation Area
University of California, Santa Cruz, Santa Cruz, CA
Bachelor of Arts Degree, Environmental Studies; Conservation Biology Emphasis
Senior Thesis: Comparison of Avian Diversity across four habitat types at University of California Berkeley's Hastings Reserve, Carmel Valley, CA
Professional Publications
La Costa Glen Habitat Conservation Area Management Plan
Co-Author (2019-2023)
Rancho La Costa Habitat Conservation Area Management Plan
Co-Author (2016-2020 and 2021-2025)
Manchester Habitat Conservation Area Management Plan
Co-Author (2016-2020)
Carlsbad Oaks North Habitat Conservation Area Management Plan
Co-Author (2019-2023)
Monterey County Community Wildfire Protection Plan
Contributing Editor (2010)
California Invasive Plant Council "Preventing the Spread of Invasive Plants: Best Management Practices for Land Managers"
Contributing Editor (2007)
Professional Presentations
Ten years of Challenges and Successes Managing a Highly Invasive [Ward's] Weed in Carlsbad, San Diego County, CA
California Invasive Plant Council 28rd Annual Conference, Riverside, CA, October 17, 2019
Rancho La Costa Habitat Conservation Area Educational Trail Map: Bringing Awareness about Sensitive Species to Recreational Users
Environmental Systems Research Institute (Esri) User Conference, San Diego, CA, July  9, 2018
Restoring Riparian Ecosystem Function and Diversity through Cost-Efficient, Hazardous Fuel Reduction
California Invasive Plant Council 25rd Annual Conference, Yosemite, CA, November 4, 2016
​Natural Areas Association 43rd Annual Conference, Davis, CA, October 18, 2016
Santa Catalina Island Bison and Mule Deer Study: Impact on Island Ecology
Environmental Systems Research Institute (Esri) User Conference (Map Gallery Presentation), San Diego, CA, July 10, 2016
Co-Presenter: Kenneth Ryan Driggers, co-authors: Liping Rahman and William Dickey
Restoring from Eucalyptus; Lessons Learned
San Diego Weed Management Area Symposium, San Diego, CA, June 9, 2016
Co-Presenters: Stacy McCline, Shirley Innecken, and Kelly Sypolt
Professional Memberships and Certifications
Global United Foundation (2015 – present); Acting Treasurer, CFO​
California Invasive Plant Council (2019 – present); Acting Treasurer
Gamma Theta Epsilon {Nu Theta Chapter} International Geographical Honor Society Inductee April 29, 2019
Phi Kappa Phi Honor Society Inductee May 5, 2018
Department of Pesticide Regulation Qualified Applicator Certificate (2003 – present)
San Diego Weed Management Area (2012- present); Steering Committee Member
Monterey Fire Safe Council (2007-2012); Past Vice President during development of CWPP
​Society for Conservation GIS (2007 – present); Member​
Holistic Management International; Completion of Holistic Goal Setting, Decision-Making, and Land Use Planning Certificate. (2012)